The Remote Operated Bot (ROB) robot was completely designed and fabricated by the team members during the 2004 - 2005 school year. Inspired by the Mars Land Rover, ROB can be remotely controlled over a distance of 200 feet from a control center.


Completed ROB
| | |
| --- | --- |
| ROB Under Fabrication | Rear View Showing Partial Pneumatic System |
The robot wheelchair base is powered by two 12 volt batteries which came with the donated base. The chair was striped off and an aluminum platform was constructed to support the electronic and pneumatic systems. The main on-board control unit for all of the motors and linear actuators is the 2004 Control System from Innovation First, Inc. ROB is equipped with a pan and tilt camera on top of the telescoping tower, one pinhole camera on the gripper, and one pinhole camear mounted on top of the lid. These cameras provide a view for traveling and the arm/gripper operations. The camera images are sent to the receivers then through a quad processor to a split screen monitor.

| | |
| --- | --- |
| | |
| Wheelchair Base | Pan/Tilt Camera |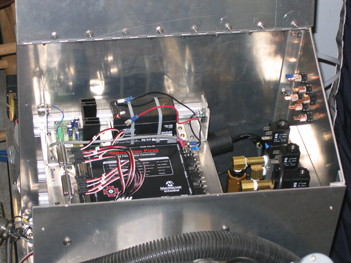 On-Board Innovation First Control Unit
The arm is fabricated from 80/20 parts and electric linear actuators provide the muscle for the wrist, elbow, shoulder, and rotational movements. The arm reaches six feet and is equipped with a pneumatic gripper. The students designed the gripper by analyzing photos of a commercial gripper that were taken at a trade show.
Pneumatic Gripper before Mounting